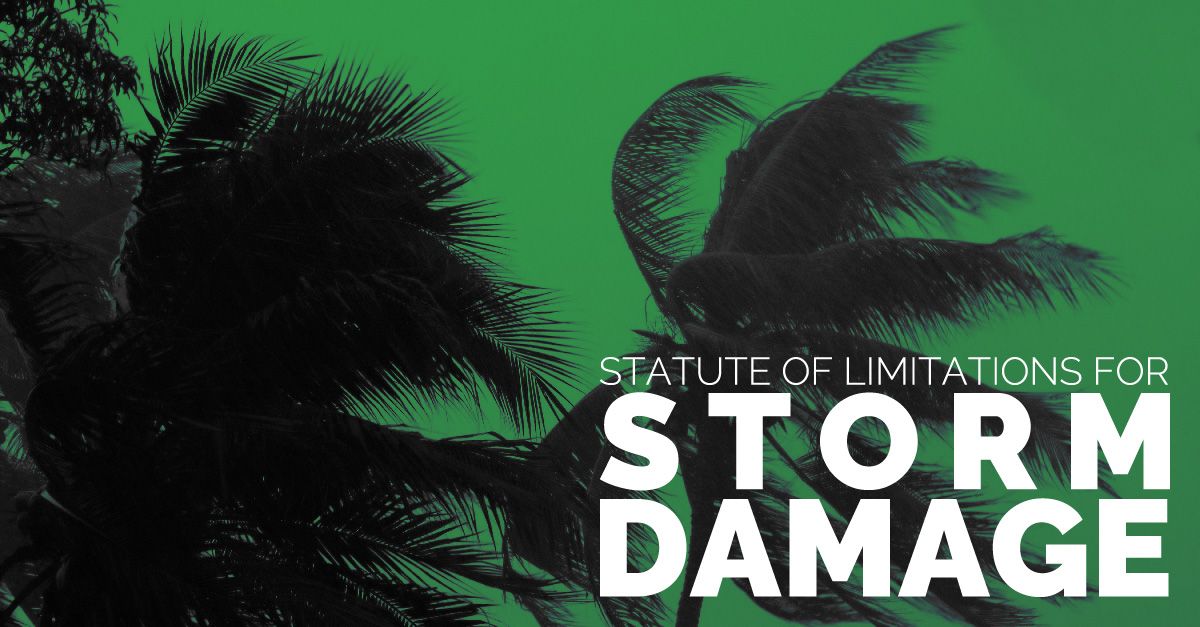 If you home endured Hurricane Irma in September of 2017, you CAN still get your roof repaired and replaced by your insurance provider.
Rainy season is here and if your roof is leaking, you may be suffering from storm damage that was never uncovered.
Here is information on the Statute of Limitations for Storm Damage from Kelly Roofing:
[testimonials design="classic" backgroundcolor="" textcolor="" class="" id=""][testimonial name="Umberto Ct, Naples, FL Tile Repair Customer" avatar="male" image="" image_border_radius="" company="" link="https://www.kellyroofing.com/go-kelly/why-kelly/" target="_blank"]They did a fantastic job. And I truly appreciate them getting the work done so quickly before the rains of TS Alberto hit. Will recommend you to everyone! [/testimonial] [testimonial name="Metal Re-roof, Customer" avatar="male" image="" image_border_radius="" company="" link="https://www.kellyroofing.com/go-kelly/why-kelly/" target="_blank"] It was a pleasure to meet Mr.Justin Mottola , He was very professional and knowledgeable. Explained many things to me. He even went up to the attic to check for leaks. I really appreciate his service and it reflects well on your company Kelly Roofing. Good initial impression. Look forward to doing a new roof with you as soon as possible. Thanks for your help and professionalism.[/testimonial] [/testimonials]
How long do I have to file a Roofing Insurance claim?
You have until the statute of limitations time frame runs out to file a claim. For homeowner's insurance claims in Florida that time frame is three years from the date of loss or incident. For Hurricane Irma, the last date to file a claim is September 10th, 2020.
What if my insurance company denies my claim?
Insurance companies make mistakes like the rest of us. If the insurance company dies your claim, call in an expert to verify that this is damage and to provide documentation for you to show your insurance company as proof damage exists. If this does not work, and you truly do have damage, we suggest seeking legal representation.
What if my insurance company didn't give me enough money to cover the damage?
Insurance companies are required to restore your roof to a pre-event condition. This would include all costs necessary except for your portion of the claim, which is the deductible. Look into these two items. First, did the insurance company provide you the ACV payment? If so, that's just the down payment and not the full replacement amount.
Second, if the total claim amount is less than you expected, have a professional look into what was provided and provide a scope of work describing in detail what is needed. Show the scope of work to the insurance adjuster. If you feel you are not being treated fairly seek legal representation.
Discover how much insurance should be paying you. Contact Kelly Roofing
today to walk through this process.
*The statements on this page are personal interpretations and opinions from limited experience and legal advice provided to Kelly Roofing and/or Kelly Roofing's clients and are not to be used as legal guidance. Kelly Roofing is not qualified or licensed to provide insurance advice, discuss claim information, act as a public adjuster or provide legal representation.
Schedule A Free Inspection Now
Learn More About Your Roof Here: