Keep Unwelcome Rodents & Pests Out!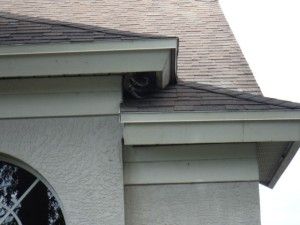 Kelly Roofing is often contacted by Florida homeowners who are struggling with unwanted intruders in the attic. Our job: to locate the entry point of bats, birds, and rodents & make the entry point inaccessible.
Of course, we are not pest control specialists. We are, however, the go-to professional when it comes to repairing soffits, fascia, and flashing on your roofing system. We can make any necessary renovations without jeopardizing the performance of your roofing system or voiding the manufacturer's warranty. Kelly Roofing will also ensure that any repairs or renovations are perfectly aligned with Florida building codes.
Rodents in the Attic?
Since each case is different, we offer free estimates that will provide information on the best way to solve your pest problems.
Rodents, such as squirrels, raccoons, birds, etc., may cause damage to your roof and attic. Left untreated, they may nest inside your attic space and leave piles of waste behind them.
Contact Kelly Roofing to repair the damage that the pesky critters have caused – we will seal up the possible entry points inside and out to keep your roofing system waterproof, weatherproof, and rodent-proof.