Flat roof replacement is a major capital investment for your business, whether you are in Naples or up in Collier or Lee county. It is also often a necessity, given Florida's history of rough weather. The professional roofers of Kelly Roofing can offer advice built on solid experience.
Benefits of Flat Roofing
Low-slope roofing, often casually referred to as flat roofing, has a pitch as little as 0.25" per foot. This invites problems with ponding, compressed insulation, and major ultraviolet (UV) ray degradation from baking under the Florida sun.
Flat or low-slope roofing is a boon to commercial building managers, though, because it allows the roof to be used for HVAC systems, signs, radio masts, helicopter landing pads and more.
Kelly Roofing recommends Duro-Last single-ply PVC membrane for its durability, resilience, and resistance to UV damage. PVC holds up well under Florida weather, from sunshine to storms.
Signs Point to Flat Roof Replacement
Several wear indicators will tell you that you need to consider flat roof replacement:
Increased repair costs
Tears, open seams, or missing membrane
Water infiltration
Ponding
Compressed insulation
High humidity inside your structure
Crazing, crackling, bubbles, buckles or other irregularities
Clearly Kelly
Kelly Roofing is clearly the best choice for commercial property owners throughout Collier and Lee counties for flat roof replacement. Our crews are highly trained, our programming for education and safety is unparalleled, and we can provide exactly the right kind of roof and waterproofing for your business:
Duro-Last Single Ply PVC membrane for endurance, economy and easy servicing
GAF Master Commercial Roofer offering the entire range of GAF quality commercial flat roof replacement products
Many roofing systems get tough workouts under the combined forces of Florida's heat, high humidity, direct sun and harsh rains. In the roofing business since 1972, Kelly's years of experience can help steer you toward the ideal flat roof replacement product for your needs.
Best Warranties
A company as dedicated to perfection as Kelly earns the highest marks for trust among commercial roofing product manufacturers. Kelly can offer warranties to our customers that few other roofers are qualified to offer. This means you lock in security, savings and peace of mind when you use our services for flat roof replacement.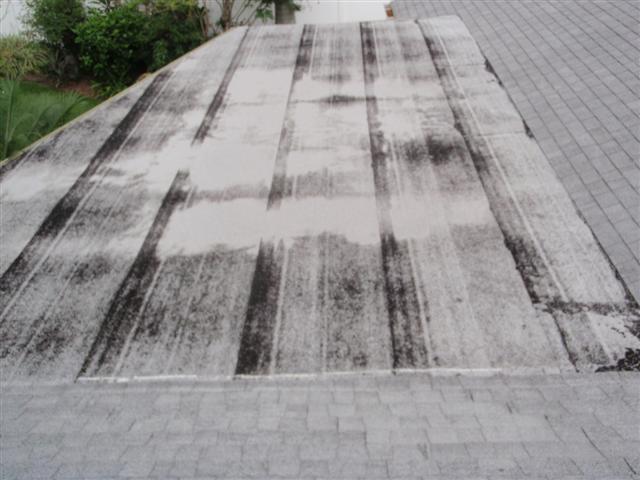 Before / Flat Roof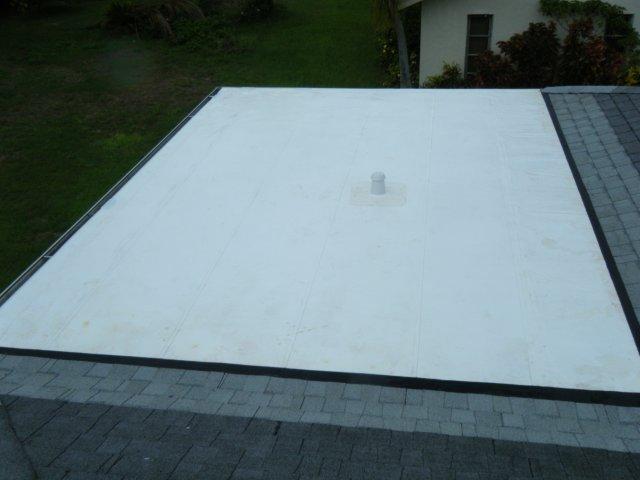 New Flat Roof (Duro Last Roof)
The Kelly Clean Guarantee is our promise to you that we will do everything clean, from start to finish. We take as much pride in our work as you do in your home, and we do everything we can to protect your property as we work on your roof. We will protect your driveway, windows, doors, screens, pools, fountains, A/C units, plants, trees, and other landscaping. We will clean up every day, not just at the end of the job. We will show up to work in clean trucks, clean uniforms, and a drug-free staff. With Kelly Roofing, we guarantee you'll love the way we do CLEAN.


Pick Your Roof Options
You don't have to replace the same type of roof. Did you know metal roofs are the same price as shingle roofs? Is the traditional look of tile roofing what you want? Do you want a roof that will stand up to hurricane force winds? Wouldn't it be nice to have the roof pay for itself in energy and insurance savings? Discover the true differences between each type of roof system and find the one that fits you best. At Kelly Roofing, we will provide you with information about each roof type to help you make your roof replacement decision easier and more informed. What roof are you? Take the quiz to find out or skip right to the style you prefer.