COVID-19 Back to Work Preparedness Plan for Kelly Roofing
Kelly Roofing is committed to providing a safe and healthy workplace for all our workers and customers. To ensure that, we have developed the following COVID-19 Preparedness Plan in response to the COVID19 pandemic. Managers and workers are all responsible for implementing this plan. Our goal is to mitigate the potential for transmission of COVID-19 in our workplaces and communities, and that requires full cooperation among our workers, management and customers. Only through this cooperative effort can we establish and maintain the safety and health of our workplaces.
Management and workers are responsible for implementing and complying with all aspects of this COVID-19 Preparedness Plan. Kelly Roofing managers and supervisors have our full support in enforcing the provisions of this policy.
Our workers are our most important assets. We are serious about safety and health and keeping our workers working at Kelly Roofing. Worker involvement is essential in developing and implementing a successful COVID-19 Preparedness Plan. We have involved our workers in this process by listening to employee concerns and mitigating those fears through taking steps to minimize risk. Our COVID-19 Preparedness Plan follows Centers for Disease Control and Prevention (CDC) and Florida Department of Health (MDH) guidelines, and federal OSHA standards related to COVID-19 and addresses:
hygiene and respiratory etiquette;
engineering and administrative controls for social distancing;
customer controls and protections for drop-off, pick-up and delivery;
housekeeping, including cleaning, disinfecting and decontamination;
prompt identification and isolation of sick persons;
communications and training that will be provided to managers and workers; and
management and supervision necessary to ensure effective implementation of the plan.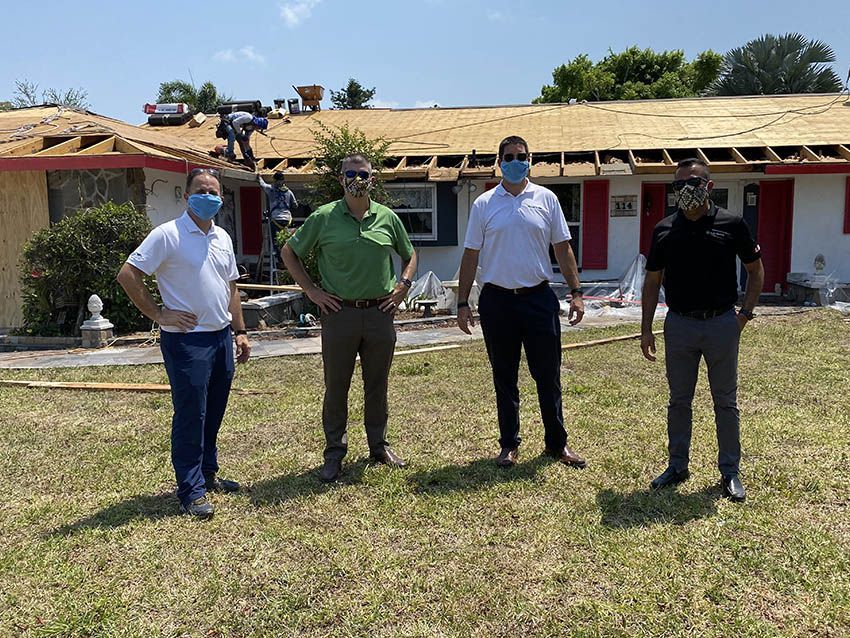 One of our customers made us all custom homemade masks. Thank you for caring about us as much as we care about you!