This is why we want to introduce our Free Roofs for Reviews project. For every five-star review we receive from customers online, we will contribute $100 towards a charity roof project. This means that for every 100 5-star reviews, we can offer someone in need a $10,000 roof replacement for free. Several organizations have partnered with us for our Free Roofs for Reviews project to make it even more meaningful.
Partnering for Greater Effect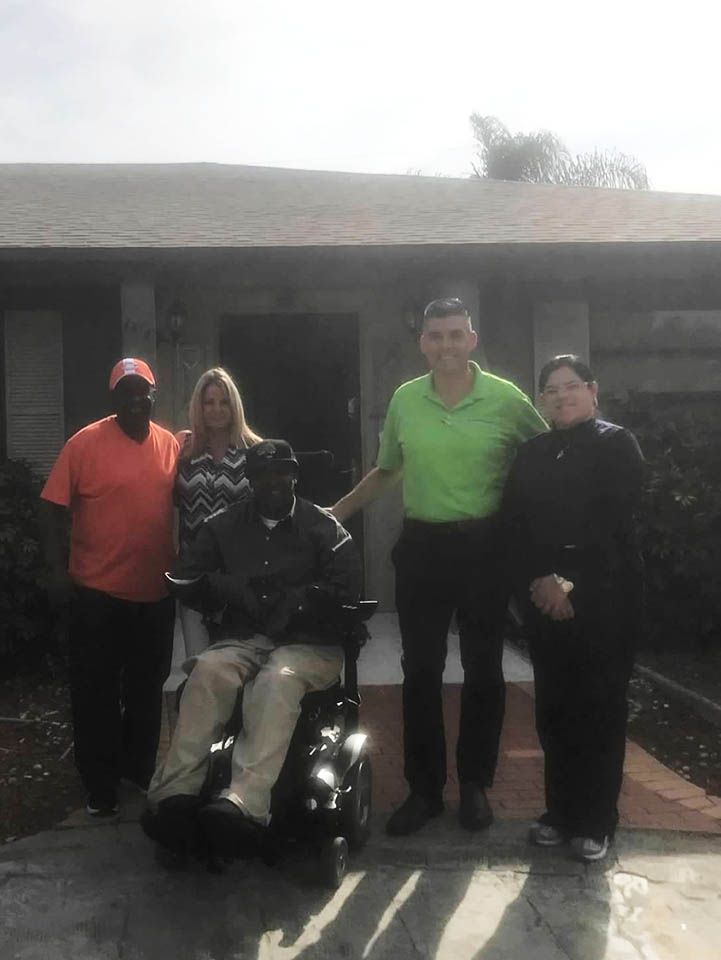 At the end of last year, we partnered with LEE BIA Builders Care to provide a family in need with a new roof for their home. Installing new roofs can be very expensive and unfortunately, not all families can afford to replace their roof, even if it's in desperate need of replacement. We believe that helping families in need within the Lee County area will strengthen the bonds of our community. We were excited to be a part of this Builders Care project.

About the Family
Mr. Devell Washington is a 40-year-old single father to an 18-year-old daughter. In 2007, Mr. Washington was shot by a stray bullet while out with some friends. The bullet left Mr. Washington paralyzed and led to permanent paraplegia (paralysis of the legs and lower body). Mr. Washington is currently living in Cape Coral, Florida with his parents, who are also his primary caretakers.
Hurricane Irma caused significant damage to the Washington family's already failing roofing system. After Hurricane Irma, the family was forced to staple blue tarps directly to the ceiling inside their home to catch the water which would flood into the home during a rainstorm. The roof on this home was in the worst shape we had ever seen! The crumbling plywood was deteriorated to the point it could no longer support any weight. A new roof was imperative for the safety of this family. Kelly Roofing provided a brand new Owens Corning roofing system to the home. We also replaced over 70 sheets of damaged plywood on the roof to ensure no future leaks.
Builders Care's Mission
Builders Care is a nonprofit organization which provides emergency construction services at no cost to needy and deserving elderly and disabled homeowners and their families who cannot obtain repairs through traditional means. Builder's Care approached us with their mission and we jumped on the chance to take part and make a difference here in Lee County. This holiday season, we will be replacing the roof of a family within our community.

We highly recommend that everyone check out Builders Care and the work they have done. In fact, if you run a local business here in town and are looking to give back to our incredible community, you should be sure to contact Builders Care to find out how you can contribute. You can make a real difference to a family in need here in Lee County!
For more information about our Free Roofs for Reviews project or to schedule a roofing service in Naples, FL, be sure to contact us at Kelly Roofing today.