Seamless Gutters
Gutters play an important role in keeping both your foundation and roof protected from water. They channel water from the roof to prevent damage. Because Florida sees so much rainfall, having large 6" or extra-large 7" gutters are needed to protect your building. Having larger gutters will give you a superior gutter design and eliminate the need for regular, costly replacement.
Benefits of Seamless Gutter Systems
The seamless leak-free design gives greater protection for your building.
Your gutters are designed, created, and assembled onsite to custom fit your roof.
Your gutters are installed behind the roof's edge metal to direct water flow into the gutter instead of behind it.
All components needed to install your gutters are ncluded with no hidden costs.
Your new seamless gutters are held in place with "free-floating" hidden hangers. This helps them hold more water weight without sagging and extends the clean seamless look.
We use oversized downspouts to help prevent gutter clogging and ensure the water is being channeled away.
Seamless gutter systems come with a 10-year workmanship warranty.
Since 1972, Kelly Roofing has helped thousands of building owners protect their buildings by providing beautiful, durable gutter solutions engineered to last.
As your local Roofing Contractor of the Year, we will help you eliminate any worry about your roof.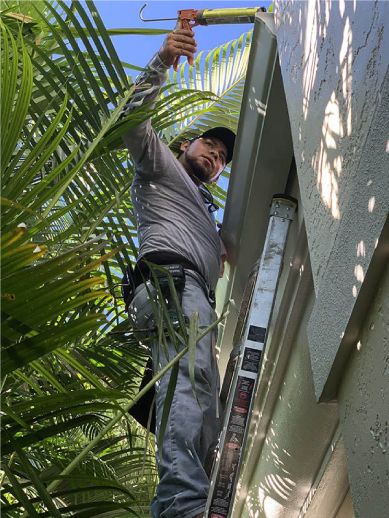 ---
Protect Your Building With Seamless Gutters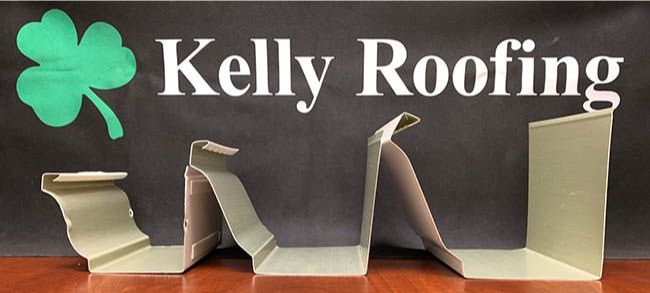 5" Medium Gutters are simply too small for our Florida rainfall amounts.
6" Large Gutters are perfect for most installations.
7" Extra Large Gutters are best for tile roofs, long runs, and large area roofs.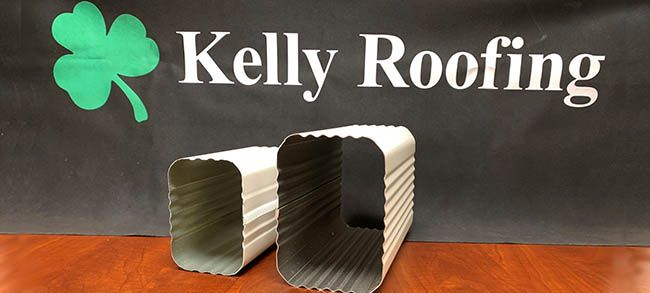 Kelly Roofing uses 3"x4" downspouts for twice the amount of water flow and to help prevent clogs. Other companies use 2"x3" medium downspouts.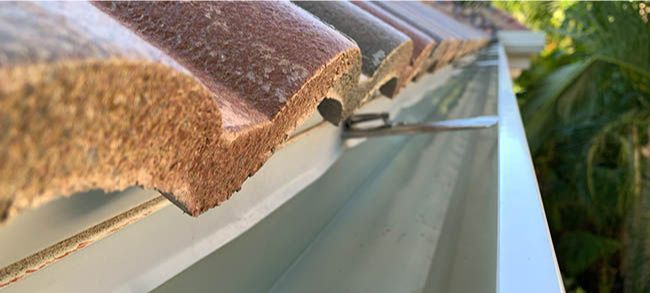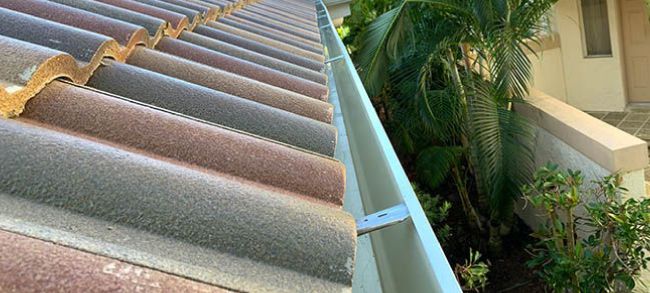 Even with tile roofs, water easily flows into the 7" Extra Large Gutter, as seen here. Kelly Roofing recommends 7″ gutters for all tile roofs.
---
Protect Your Seamless Gutters with Gutter Protection
Give your new or existing gutters an added level of protection from filling with debris with Gutter Protection. This continuous perforated aluminum barrier is invisible from the ground and allows water to drain freely. A soft breeze will remove any debris eliminating any maintenance.
Gutter Protection reinforces your gutter system, making it stronger:
Prevents to need for gutter cleaning
Resists damage from ladders, wind, and warping
Stops leaves, pine needles, and other debris from clogging your gutters
Keeps birds, squirrels, and rats out
Available for 6" and 7" gutters
Gutter Protection is easy to install and can be added to your existing gutters, in most cases. With a 25-year warranty, your gutters will be protected for years to come.