Metal Roof Replacement
Metal is synonymous with strength and toughness. As a roofing material, strength is only one of the advantages you'll gain. In Florida especially, highly reflective metal roofing cuts cooling costs and keeps the typical building cooler than most other roofing methods. A metal roof is built to endure for decades, so it's likely the last roof you'll ever buy – saving you money.
Benefits of Metal Roofing
Metal roofing lasts for decades
Greater protection against hurricanes
Metal roofing does not catch fire. Period.
Environmentally beneficial
Lower cooling costs add double the benefit
Low life cycle costs
Boosts building value
Increases curb appeal
Metal roofing can mimic other roofing types including shingle, shake, and tile
Strong warranties protect your investment in a sturdy, beautiful metal roof
You can upgrade your Florida roof by having Kelly Roofing install a durable metal roof. Using storm-strong metal tie-ins with your building's walls, our trained installation crews can firmly attach your roof to withstand high winds, uplift, and pressure changes.
---
Metal Roofing Options
Aesthetics
Metal Roofs are more attractive than ever before, with a wide array of colors and styles to choose from. For styles, you can choose from 5V, standing seam, or stone-coated steel panels to turn your building into a beautiful showpiece. Opting for thicker, high-quality metal can help your roof look great for decades to come.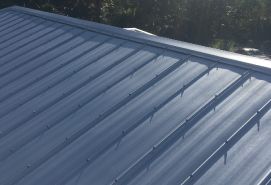 Cost Savings
A high-quality metal roof is a solid protection for your building and all the important things in it. After all, a metal roof will withstand hail, high winds, and wildfires. A metal roof adds value to your property while saving you money on energy costs.
Wind Resistant
Metal roofs withstand hail, high winds, fire, heavy rains, and much more Mother Nature may throw at them. Installing a durable metal roof can also lower the utility costs for your Florida building.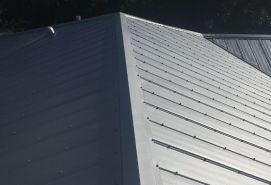 ---