South Florida Siding, Soffits, and Fascia
Siding may seem like it is only there for curb appeal, but it does so much more. Together with soffits and fascia, siding:
Protects your building from pests
Helps insulate your building for better energy efficiency
Keeps moisture out of your building to reduce mold and mildew growth
Follow these links to learn more about protecting the envelope of your building.
---
Siding
Benefits of Siding
Siding is the first line of defense your building has against pests, rain, fire or anything else Mother Nature throws your way. Your siding needs to be installed correctly to withstand the hurricane winds and other harsh weather conditions. The material your siding is made from is also vitally important. Vinyl siding pairs durability with low maintenance needs while remaining cost-effective.
Ply Gem siding comes in several distinct looks to customize your building. You can choose from Cedar Discovery to gain the rugged good looks of cedar shakes with the durability of vinyl, Board + Batten to highlight unique architectural features, or several traditional styles for a classic look.
Choose from standard, dark, and premium colors
Durable, extra thick vinyl to resist general wear and tear
Withstands high wind speeds, perfect for Florida's Hurricane zones
Low-maintenance requirements
Exceptional curb appeal to make your building stand out
Exclusive Ply Gem Hang-Tough Technology for greater resistance to cracking, impact, and thermal distortion
Sustainable material fro better, eco-friendly choice
VIP Limited Lifetime Warranty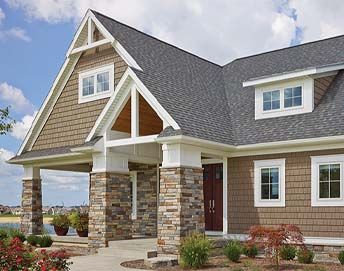 ---
Soffits
Benefits of Soffits
Soffits cover your roof's overhang so it isn't exposed, keeping animals and insects out of your roof. While you won't see the soffit from the street, it is still seen when closer to your building, making it an important part of the overall curb appeal of your building. Soffits are also an important part of helping your attic space breathe.
Aluminum soffits offer clean lines and smooth surfaces for a contemporary look. This unique vent system pulls outside air into your attic through the rafters, keeping your home cooler in hot weather. It also helps prevent moisture and therefore mold growth.
Wide array of standard and premium color choices
Available in 4 finishes: Hidden Vent, Lanced, Center-Lanced, and Solid
Increased airflow to reduce utility bills and protect your roof
Durable to resist dents from everyday life
Raises curb appeal
Low-maintenance requirements to keep it looking great
Sustainable material for eco-friendly recycling
Comes with a VIP Limited Lifetime Warranty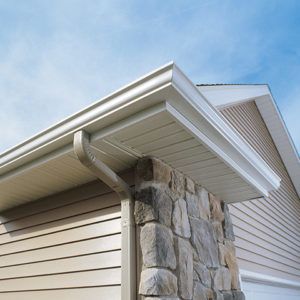 ---
Fascia
Benefits of Fascia
Fascia is directly above the soffit. This exposed board is where your gutters are hung. It also serves as a support for the lower edge of your roof. Because it is very visible, keeping it in good condition is important for your building's curb appeal.
Aluminum fascia offers worry-free, low maintenance protection for your roof's overhang. Paired with Ply Gem's ultra-tough topcoat, you can upgrade the curb appeal of your roof without sacrificing the strength needed to hold your gutters in place.
17 standard colors to match your soffits and siding
Available in 3 finishes: Smooth, Ribbed, and Wood Grain
Exceptionally strong to resist dents
Low maintenance so you can enjoy life
Recyclable material for a sustainable choice
Has a VIP Limited Lifetime Warranty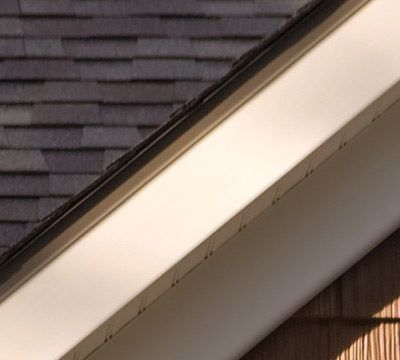 ---