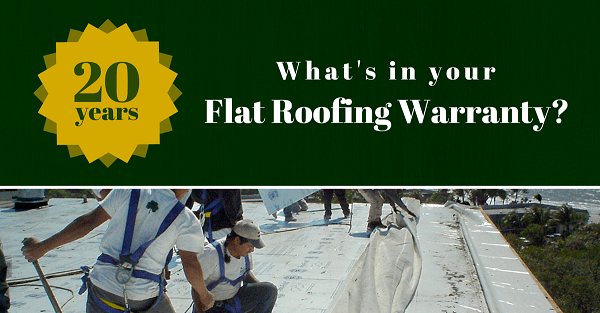 When looking at the various flat-roofing options available, you will come to one main conclusion: the investment in purchasing high-quality commercial roofing is significant. The best way to ensure that your investment is protected is by making sure you understand the warranty attached to your roofing system.
Different Types of Roofing Warranties
There are three different warranties available with the installation of commercial roofing:
Manufacturer's Material Warranty
This type of warranty comes into play when damage to the roofing system is caused by a defect in the manufacturing process. It does, however, cover only the replacement or repair of the roofing materials themselves. (In other words: damage sustained from improper installation processes or a defect in the engineering of your building will not be covered under this type of warranty.)
Manufacturer's System (Labor & Material) warranties
Some manufacturer's offer a more comprehensive warranty, which covers errors of installation (provided the contractor is licensed by the manufacturer) as well as the materials themselves. However, it is important to note that damage due to installation errors is only covered for a limited time (usually around 2-5 years), while the warranty covering the materials lasts for  much longer.
Contractor's Workmanship
These are issued by trustworthy roofing contractors that install roofing system – they stand behind their work and offer a warranty which will cover major problems resulting from improper installation and workmanship.  When paired with a manufacturer's warranty, you have the ultimate protection to cover your roofing investment.
The Owner's Responsibility
Warranties are an offer of trust between manufacturers and consumers. Consequently, the owner of the roof is held up to a standard, in the event of damage covered by warranty.  These responsibilities include (but are not limited to):
Proper maintenance of  roofing system
Professional inspection of roofing system
Debris is cleared from rooftop and nearby areas
Drains are kept clear and in working order
Know Your Warranty!
Note: the information we have provided in this article includes basic facts about flat roofing warranties in general. For more specific information, contact your roofing contractor, as well as your system manufacturer to learn the details of what is covered under your commercial flat roofing warranty. (Most manufacturer's post their warranties on their website – similar to Duro-Last's clearly-formatted Warranty Specifications page.)
Contact Kelly Roofing for more information on how we can help protect your flat roofing investment.
Flat Roofing Decider