Minimize Water Damage to Your Home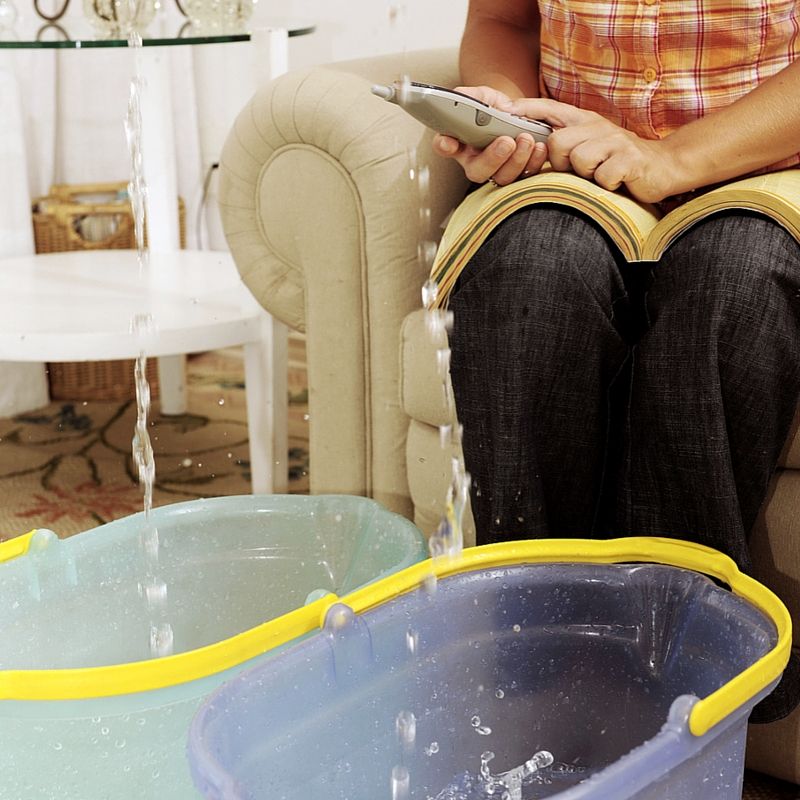 Noticing a roof leak in your home can be a scary discovery.  Here are a few tips to help minimize the effects of water damage on your belongings.  These steps can be completed while you are waiting for your roof repair contractor to arrive onsite.
Minimizing Damage Inside Your Home:
Funnel the Water Flow – If the ceiling is holding water, use a screwdriver or pen and poke a hole in the center of the bulge. This will funnel the water to that one spot saving the ceiling and helping to collect the water in one stream.
Collect Water – Obviously pots and buckets work well, but the best thing to use on large leaks is your garbage pail, provided by your local Waste Management. These pails have a larger capacity than most other types of buckets – as well as wheels, making it easier to empty.
Protect Belongings – If there are any items in the room that could be damaged by moisture, either move the articles off of the ground or into a different (dry) room.  This should eliminate much of the worry associated with damaged furniture or other belongings.
Minimizing Damage on the Roof Top
As roof leaks occur, it becomes necessary to attend to the source of the problem: the roof top. Each type of roof requires a different strategy for minimizing damage and completing temporary or permanent repair solutions.
Here is an overview of some of the weak points of each roof system, as well as some of the more common emergency repair tactics.
NOTE: Be careful when walking on any roof surface. All wet roofs are slippery, and some "dry" roofing may be slippery due to algae or mildew.  Rotted decking is often hidden from sight by the roof material and can collapse under human weight.  Pipes and vents can cause tripping – and metal roofs are very slippery at all times.  If you have a flat roof section, it is advised to set up the ladder there as it is easier to get on/off a ladder from a flat surface.
Temporary Sealants for roof leak repairs:

These items can provide a temporary solution for a leaking roof, helping to keep the interior of your home dry while waiting for permanent repairs to take place. 

Silicone (or other type of caulking)
Glue
Plastic Roof Cement
Tarps
Visqueen
Garbage Bags
Duct Tape (or other type)
Doe (1 cup warm water 4 cups flour. Heat for a few minutes so still tacky, yet stiff on outside. Use to form over leak areas)
Kelly Roofing provides emergency roof repair services for homes and businesses
in our region. Contact us for help with your roof leak.