Roofiversary – Never Worry About Your Florida Roof Again

Most roofing product manufacturers require documented periodic inspections to maintain warranty coverage. Only a certified contractor can perform such inspections. Cleaning companies are not certified, and they end up causing damage which you must pay to repair. Let Kelly Roofing take away the hassle! We are proud to offer our Roofiversary program to roof owners, regardless of who installed your roof. This program is an every-other-year service designed to keep your roof healthy, looking fresh, and double the remaining life.
This is Roofiversary
An inspection every two years
Maintain warranty coverage
Inspect – Maintain – Clean – Warranty
Inspection for damages and abnormal wear & tear
Know your roof is up to current Florida building codes
Protect from unnecessary roof leaks
Double the life of your tile roof – 25 vs. 50 Years
Hurricane Response Priority
Enjoy a worry-free, clean roof

Immediate emergency response after a storm
Kelly Roofing has completed over 60,000 jobs in Florida since 1972
We want to make maintaining your roof as simple as possible. By performing an inspection and maintaining important details we ensure the roof's proper performance and warranty coverage. This will extend the life of your roof, saving you money. Even if Kelly Roofing didn't install your roof, once inspected and maintained, we can cover the roof under our own warranty for two full years.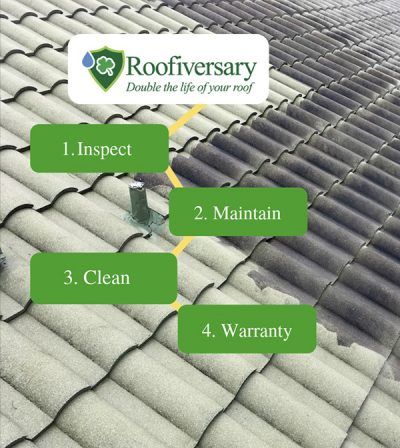 ---
Roofiversary Steps
Inspect
Our Roofiversary program starts with a rooftop health inspection, making sure it is up to code and identifying any important issues.
Here is our Inspection Checklist to see what we cover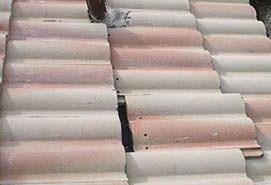 Maintain
Having a local roofer to depend on, maintaining records of the roof's performance and making repairs before they become huge hassles allows you to save money, have less worry, and double the remaining life of your tile roof.
Head to our Tile Roof Repair page to learn more!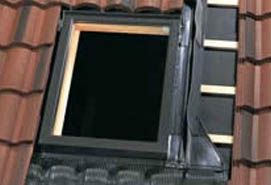 Clean
Keeping your roof clean can seem like a never-ending job in Florida. Unsightly black streaks caused by algae growth changes the look of the tile roof and can cause a stern message from your HOA to arrive in your mailbox. Our Soft Wash and Roof Rain Time-Activated Algae Prevention Solutions are designed to protect the roof and prevent the black streaks from returning for two full years, making us a one-stop-shop for all your tile roofing needs.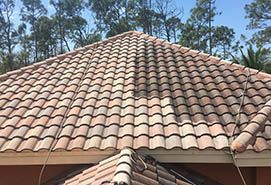 Warranty
When you sign up for our Roofiversary, Kelly Roofing will warranty the entire roof from leaks for two full years (regardless of who installed the roof). With our additional biennial cleaning program, a 2-year warranty against black streaking is always included. Reapplying our custom cleaning prevention, biennially ensures your roof will always look beautiful.
Read more about our Warranty Inspection.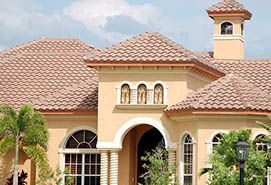 ---
Roofiversary: Double Your Roof's Life
Joining the Roofiversary program will save you thousands of dollars on roof costs with regular maintenance and cleaning by doubling the life of your roof.
Roofs in the Roofiversary program have seen their tile roof's life double from 25 to 50 years.
Our inspection will help document and keep your roof's warranty. Payment plans are available for a monthly roof investment option.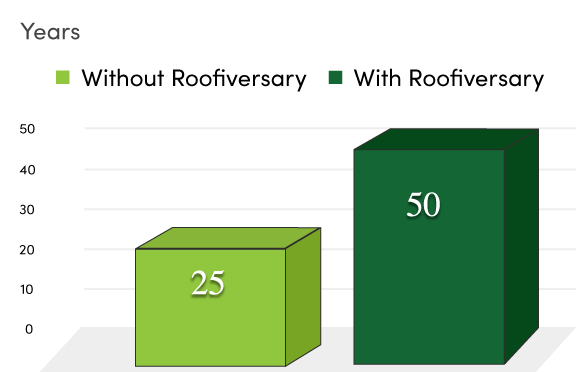 ---
Roofiversary: Preventing Leaks and Black Streaks
If your tile roof is starting to look older than it is because of black streaks, we can eliminate the cause of the black streaks and keep your roof clean for two full years. Our process of cleaning with an all-natural soft wash and Roof Rain Time-Activated Algae Prevention Solution keeps your roof looking great. Re-applying every two years will keep your tile roof looking fresh and streak-free for life!
Roof Cleaning Benefits
Restore the look of your roof
Increase curb appeal
Prolong roof life
Maintain your home's value
Prevent HOA nasty-grams
Prevent damages & leaks caused by non-roofing companies
Maintain your roof's warranty
Our eco-friendly soft wash roof cleaning will also treat the cause of the problem without harming your roof, landscaping, pets, or the environment. Because we use a soft wash to clean and our Roof Rain Time-Activated Algae Prevention Solution your roof warranty also stays intact.
Head to our Roof Cleaning page to learn more!
---
---