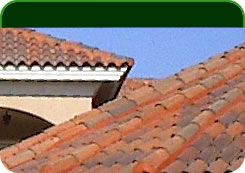 While a variety of tile roofing materials can last for many years, contrary to popular opinion, tile roofs do not last forever and will eventually require repair. Problems, such as leaks, commonly develop with some types of tile roofs due to age, installation, and wear and tear.
While you may think your roof has only one leak, leaks can travel. That means that if you only repair one obvious source of leaking, the leak may reappear. That is because water takes the path of least resistance — you may have more than one leak, with all of the leaks traveling to one end location.
Because the underlayment is a critical part of your roof, improper installation or lack of installment in older homes may cause leaks. Also, as it is impossible to stop the wind from blowing sideways or in gusts, it is very common for a tile roof to develop leaks during rainy, windy seasons as the rain can blow up under the tiles.
In addition to wind and rain related causes, there are many other reasons your tile roof may be leaking:
Normal Wear and Tear
Fine cracks can damage the mortar or pieces of mortar can chip, crack, and fall off allowing water intrusion at the hips and ridges.
Tiles can sometimes slip out of place due to age, weather, and other factors, allowing water intrusion.
Your roof may become damaged by people walking on it. Many technicians who install or repair items such as solar equipment, antennas, or satellite dishes do not know how to properly walk on tile to avoid damage.
Maintenance Issues
Debris can build up in the valleys or gutters, allowing water to easily back up under the tiles. This can cause the underlayment to become saturated or rot, and leaks to eventually occur.
The water-tightness of your roof can be compromised by animal nests, small birds, and insects, such as bees or wasps.
Cleaning gutters incorrectly can damage tile.
Installment Issues
Incorrectly installed flashing or counter-flashing can cause damage.
Improperly installed underlayment, the use of inferior underlayment, incorrect ventilation, or even incorrectly installed tiles can be the root of a leak.
If you have a leak in your tile roof, it is important to have a professional inspect your entire roof. A roofing specialist from Kelly Roofing will be able to identify the specific cause of the leak in order to provide expert tile roof repair and ensure years of leak-free living.
Kelly Roofing is a family run business that treats every roof as if it is their own. Our certified technicians will repair your tile roof to ensure that it lasts for many more years to come. Contact Kelly Roofing today for tile roof repair in Naples.