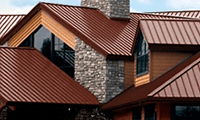 If your home is in need of a new roof you may want to consider having a metal roofing installed. Here at Kelly Roofing, we use GulfCoast Premium Metal Roofing systems. These metal roofs are made in right here in Florida and are well built so that once you have one your metal roof installed you can sit back and enjoy your new roof, knowing your home is well protected.
Why Choose A Metal Roof?
There are a number of good reasons to choose metal roofing when replacing your Naples home roof.
Metal roofs are an affordable choice when it comes to replacing your homes roof.
A metal roof has a long life span.
You can choose a metal roof in a variety of colors and styles making it easier to find the perfect roof to suit your home.
Due to its sturdy material, metal roofs can withstand weather such as hail. High wind and fire.
You can choose a roof that is salt and rust-resistant.
The right metal roof can be very energy efficient, saving you money.
Why We Install GulfCoast Metal Roofs
At Kelly Roofing, we choose to use GulfCoast Supply as our supplier as they supply us with the best metal roofs on the market. We trust GulfCoast Supply as they focus on supplying the highest standard of materials when it comes to roofing. GulfCoast offers many different styles of metal roofing from those that are hurricane resistant to metal roofs that are fully recyclable. From style to color, GulfCoast helps us give our customers more options when it comes to their metal roof.
Are Metal Roofs Environmentally Friendly?
With new technology a metal roof can be very energy efficient, actually, a metal roof may save you up to 25% when it is compared to a dark grey asphalt shingle roof. By using GulfCoast's metal roofing with the Kynar500 PVDF metallic coatings your roof will not experience the effects of Florida's sunshine and salt air the way other roofing surfaces do. Another quality that makes a metal roof more environmentally friendly is the fact that some metal roofs can be 100% recycled, this depends on the particular roof and the choices you make when installing a metal roof on your home.
Energy Tax Credits are Available
In 2013 metal roofing from GulfCoast Supply qualified for the American Tax Payer Relief Act for approved Energy Star metal roofing. The program is retroactive through 2012, and homeowners who make a qualifying metal roof purchase of GulfCoast Supply's metal roofing systems are eligible for a government tax credit of 10% of the purchase price up to $500.
Why Choose Kelly Roofing?
Kelly Roofing has been in business for over 30 years. We are family run and believe in providing our customers with the best service possible. We choose only quality products so that you can trust that your home is protected from the elements. GulfCoast Supply's metal roofing is our choice for quality metal roof replacement.
Contact us today at Kelly Roofing and be confident that your new GulfCoast metal roof will pass the test of time.