Top 100 Contractors
Before Kelly Roofing could rise to the pinnacle of honor of being nominated to receive the 2019 Residential Contractor of the Year Award, our professional team of roofers, managers, and office staff had to work hard to earn our way onto the Top 100 Contractors of the Year. 
Kelly Roofing first landed on the list in 2003. With a bold strategy to be simply the best commercial and residential roofer in Florida, we were thrilled to be recognized in 2003, and every year since then. 
That's right. Kelly Roofing, through its careful program of giving back to the community, working hard on every job, and making customer service a priority, has been on the Top 100 Contractors List every year since 2003. 
Being recognized as one of the nation's best roofers is an honor. Continuing to receive that recognition for five years is amazing. Gaining recognition for 16 years running is phenomenal. But it is no fluke:
Community First
Kelly Roofing is part of the community in which we work. Bonita Springs is our home base, but we branch far out from this lovely Gulf Coast community to serve neighbors near and far. We pride ourselves on excellent customer service before, during and after residential and commercial roofing work. 
Florida tends to receive plenty of rough weather, constantly proving the strength of our roofing installations. After Hurricane Irma, the Kelly Roofing team serviced over 20,000 local residents in disaster and emergency roof repairs.  We continue to help during hurricanes, provide support for community programs, and always place the customers in our community first. 
Trusted Care
Getting onto the Top 100 Contractors list and remaining there, Kelly Roofing implemented a streamlined system to deliver consistent quality, job after job:
Inspection Order

— We inspect, diagnose, propose solutions, discuss choices, and confirm the order

Project Administration

— Residential or commercial, we select a start date, obtain permits, order materials, arrange for tear-off, and schedule the crew according to your schedule

Supervision of Crew Work

— We follow a careful program of tear-off, inspection, wood replacement, structural repair, underlayment, installation, and final inspection

Close Out

— We arrange final payment, issue warranties, and discuss maintenance schedules, never stopping until you, the customer, are completely satisfied
Roofing Contractor of the Year
Roofing Contractor Magazine gathers together many of the industry's best roofers every year for their Best of Success conference. This year, the conference was held in Miami, Florida. The 2019 Roofing Contractor of the Year award was presented to Kelly Roofing President, Ken Kelly, on Monday, September 16.
Receiving this honor is the capstone to more than a decade of excellence on the Top 100 Contractors list at Roofing Contractor Magazine (the official publication of The International Roofing Expo).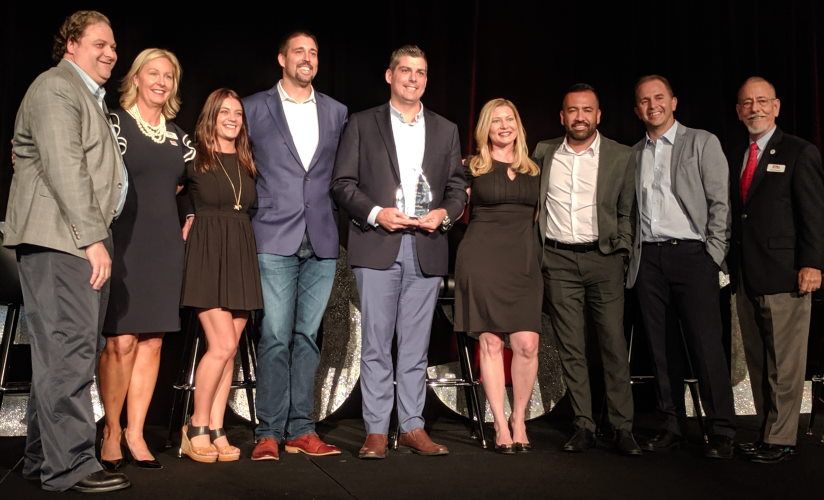 This is a momentous event for everyone at Kelly Roofing, no doubt. Company president and Naples native Ken Kelly knows the award is shared by every diligent, dedicated employee. Yet it is also shared by every customer in our community since our clients now know they are in the hands of an award-winning roofer.
Ken says of this honor, "This honor is a direct result of following our core values: Doing what is right, Family helping others, and Kaizen – Continuous Improvement."
A Future of Growth
From our center in Bonita Springs, Kelly Roofing has expanded into Naples and the surrounding area. We have served Naples and south Florida through three generations. Kelly Roofing is equally adept at residential and commercial roofing. Our residential customers in Florida are familiar with our work installing, maintaining and repairing all types of home roofs:
Our commercial customers are accustomed to the high standards we set in installing all types of low-slope roofing:
Single ply PVC

Built-up Roofing (BUR)

Modified Bitumen
Kelly Roofing installs and recommends single-ply PVC from Duro-Last; it is simply the best in handling Florida's high heat, intense solar exposure, and heavy precipitation. We are also equipped to handle existing low-slope roofs of any composition. It is part of what makes us good enough to be Roofing Contractor of the Year.
Everywhere we go, we take with us that mindset to deliver superior service of unbeatable quality, with friendly, helpful crews ready to make your property look perfect. We look forward to a bright future of excellence, delivered one roof at a time, to everyone in our community. 
If you want your home or commercial property protected by the award-winning services of Kelly Roofing, please contact us today. We will be happy to share our vision for success, our plan to make your roof another example of our stellar service, and our commitment to customer satisfaction.