Kelly Roofing's latest adventure in innovation has carried the team all the way to the breathtaking island of Nevis in the West Indies. A move years in the making, Kelly Roofing has managed negotiations, logistics, and the ever-changing green energy landscape to complete the first-ever international Tesla Solar Roof installation. Making this customer's off-grid dreams a reality has opened worldwide possibilities for the next steps in solar roofing installations.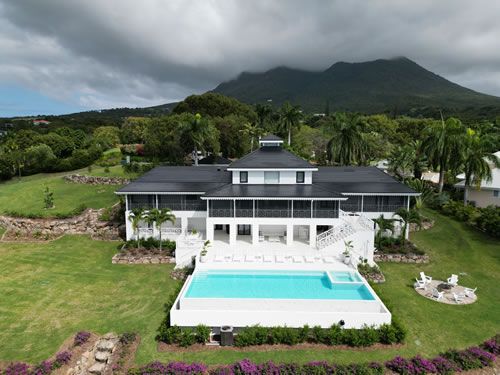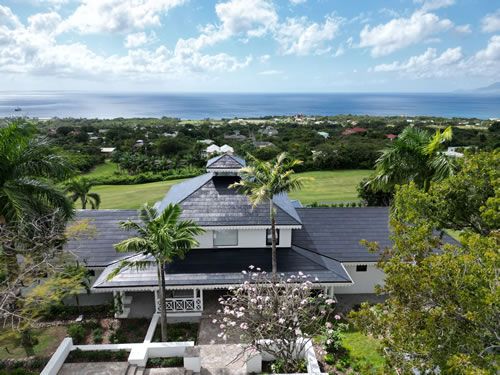 Kelly Roofing installed this Tesla Solar Roof in Nevis.
A Master Class in Tenacity
When Elon Musk announced in 2019 that Tesla would be testing the use of channel installers for Solar Roofing, Kelly Roofing President Ken Kelly jumped on the opportunity.
"I called them up constantly and told them over and over that I wanted to be the first to install these solar roofs, and I think they honestly just got sick of hearing from me. Eventually, they called me into California's testing facility to help design the deployment version," Ken said.
Ken worked through the program, helping to hone the process with Tesla's team and build the process from the inside out. Because of Florida's stringent roofing codes, a few other roofers were approved across the country first, but Kelly Roofing became the 4th approved Tesla Channel Installer in the United States. Within the first year of selling Tesla Solar Roofs, it became the number one Kelly Roofing product line.
This early start has helped the relationship between the two companies continue to grow. A Kelly Roofing Tesla Solar Roof installation made headlines in the fall of 2022 by withstanding the surge of Hurricane Ian. That home withstood 155-mile-per-hour winds, was submerged for hours, and never lost power. The social media frenzy that followed reached millions. It was similar social coverage that originally started the conversation with the customer in Nevis, who began figuring out how to bring that kind of durability and reliability outside of the United States to their own home on the island.
The Backstage Pass to Logistics
Kelly Roofing is a third-generation roofing company. Normal roofing projects have been cultivated to a science. Tesla jobs come with more moving pieces, and taking a Tesla job out of the country requires an intricate, multi-faceted, carefully honed system to complete.
Step 1: Understanding the Job
Kelly Roofing worked with the customer to understand their goals. They figured out the energy needs of the customer's home, the square footage, and the position on the island in relation to any solar energy blocks. From here, they negotiated a general price for the raw job with the understanding of the many fees and hoops that come with international work.
Step 2: Tools and Supplies
There is no home supply store down the road that you can run to. And even if there were, they do not sell Tesla's specialized trademarked tools. The team could not run back to the office for more supplies, so they had to think through the job in enormous detail, through every fastener, every tool, every small part and piece they might take for granted on a regular job. Everything had to go with them to get the job done.
This process is called a Build of Materials (BOM). In the Nevis BOM, Kelly Roofing sent only used tools, so they did not have to charge for the return shipment. This helped them build an even stronger local relationship by donating the tools to a local contractor when the job was done.
Step 3: Codes and Regulations
Next on the list were the legal hurdles. Florida has some of the most stringent roofing codes in the world because a roof in Florida has to be built for nearly all weather. Blazing heat, hurricane-force wind, damaging hail– the Florida climate lays claim to a host of nature's challenges. The benefit is that a Florida roofer is forced to be qualified to do roofs almost anywhere, which translated well to the need in Nevis.
The Kelly Roofing team then used their past experience to navigate duty and tariffs, shipping fees, custom fees, holding fees, and transportation fees. Their regular freight team was able to work with all of these codes and regulations to ship supplies legally and with smooth expertise.
Step 4: The Job
Even the work crew doing the job required a logistical element. Most international local governments have requirements for a workforce on a job like this. In Nevis, it would have required hiring local employees for every imported employee from Kelly Roofing.
Instead, Kelly Roofing eased relations with both the government and the local community by partnering with a local contracting team and providing on-the-job training. The local crew, with the guidance of the Tesla experts of the Kelly team, worked together to bring the job to life.
A Pain Point Resolved
This Tesla Solar Roof solved the client's problems. They are the same pain points that cause many others to flock to solar solutions every year. There are a lot of perks to the Tesla system that many consumers may overlook.
Ease of use. Every Tesla system is connected to an app that is designed to be intuitive for the homeowner. It helps control things such as power consumption and usage, activating storm mode (which overcharges batteries in preparation for an outage), and regulating backup mode.
Durability. Tesla makes their roofs with materials designed to last over time and protect the inner working of the tiles. They use a Class A fire-resistant underlayment, the roof is hurricane-force-wind resistant, and impact-rated up to Class 4 hail. To add to its longevity, each tile is independent, so it can expand and contract with heat and cold and provide some resistance in an earthquake.
Return on Investment. Every solar roof has a half-life. In the industry, a goal post is to expect to have about 50% power retention after ten years. Tesla's tolerance is rated much higher, and the expectation is 80% power retention even after 25 years. A Tesla roof is a mix of glass tiles and Photovoltaic (PV) tiles that convert energy. PV tiles are wired in such a way that no more than ten are strung together on an MCI (Mid-Current Interrupter) so that if a few go out, they do not all go out. Similar to the circuits on modern holiday lights. In the rare event that a repair is needed, it can be easily completed without a huge expense because not every PV tile would have to be replaced.
Leveraging the Past to Unlock the Future
The first international Tesla Solar Roof is a crowning achievement for the Kelly Roofing team that would not have been possible without years of experience and industry expertise to stand on. More importantly, it would have been impossible without the customer who trusted Kelly Roofing with all of the moving pieces and the solar vision for their home.
The company is elated to take on more global challenges and build out its skill set in new places. The best challenges come in finding solutions for their customers.
Kelly Roofing is now vetting and accepting new international Tesla Solar Roof jobs and is thankful and honored to have been a part of building this customer's home. Contact us today at 239.228.3276 or by email at: mail@kellyroofing.com for more information.