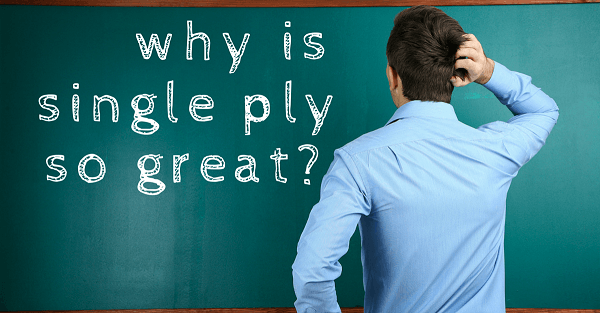 If you've tried to do your own research into single ply roofing materials, you've probably found yourself wading through an impregnable alphabet soup:  EPDM… PVC… TPO… it can all be a little off-putting. Have no fear – Kelly Roofing's here to explain things in understandable terms.
OPTIONS EXPLAINED
When it comes to residential, commercial and industrial roofing, it may initially seem that choosing a multi-layer material would be the best way to achieve maximum durability and thickness, both important qualities under the extremely strong Naples sun.
However, there are a number of factors which make single ply roofing a superior option. Let's take a look at five of the reasons why single ply stands a head above the rest:
Consistency of quality. Because single ply membranes have achieved their current popularity only in the last 30 years, they're manufactured in modern factories where production is strictly monitored, Quality control is excellent, therefore, and the risks inherent in amalgamating built-up (multi-ply) systems are non-existent.
Flexibility. Because single ply membranes are inherently lighter in weight than multi-layered alternatives, they can accommodate unconventional roof designs (which are often selling points, especially with the modern architecture employed in many of Naples' newer subdivisions)
Greener performance. Aside from using less materials, manpower and fuel to produce, single membranes are also environmentally sound in use. Typically light in color, the heightened reflectivity of these roof surfaces offer significant reductions in ongoing energy use, meaning HVAC usage can often be reduced. Further, homes qualify for additional points toward Green Building Council

LEED

(Leadership in Energy & Environmental Design) certification.
Hurricane preparedness. Single ply roofing can be attached to almost any substrate, through wood and metal to concrete, using mechanical fasteners to secure the structure. This installation method allows for extreme storm resistance.
Relative ease of installation. Roofing contractors find single-ply roofing easier to install, which results in two side-by-side benefits to you, the customer: (a) you get a neater, cleaner job with no need for a big kettle of bubbling bitumen creating obnoxious odors on your property, and (b) because working with single-ply membrane is typically faster, pricing is more competitive.
OUR SERVICES
You need a long-lasting, quality roofing job done at the right price, and that's exactly what Kelly Roofing provides. Serving the entire Naples, FL region, we treat each and every roof we work on as we would our own. Learn more by contacting the Kelly Roofing team today!
Flat Roof Options