Roof Cleaning Services
Has your roof started showing signs of age? Often caused by your roof being dirty- whether its mold, algae or dirt- a thorough immediate soft wash or BioCide time release treatment can restore your roof to a like-new condition! We guarantee that your roof will be clean for two years. And, by performing our preventative treatment every two years it will ALWAYS be clean.
Roof Cleaning Benefits
Never have a dirty roof again
Restore the look of your roof
Increase curb appeal
Prolong shingle life
Prevent HOA nasty-grams
Maintain your home's value
Extend the useful life of your roof by maintaining a clean roof.
We offer eco-friendly roof cleaning services that not only make your roof look better, but treats the cause of the problem. By NOT using harsh chemicals we prevent damage to the roof, preserve your landscaping and avoid harming pets, people or your roof's warranty. Our method is low-intensity- keeping your roof's warranty intact.
Initial Roof Cleaning Options
BioCide Biannual Treatment: Every Other Year
Always have a clean roof, 365 days a year, forever. Eliminate the cycle of clean/dirty/ugly/clean and enjoy the constant new roof look by signing up for our Biannual Treatment Program. Every other year we will retreat the roof, usually from the ground or with minimal roof-top access, for +/- half the price of the initial treatment. Combined with our Biannual Roof Maintenance Program your roof will become 100% worry free.
Only A Certified Roofing Contractor Should Ever Walk On Your Roof!
While power washing only works to remove mold & algae from your tile roof in the short term,  it can cause long-term headaches:
Etching the surface of the tile
Cutting through sealants & underlayments
Making the tile more porous, allowing algae/mold/mildew growth to come back even faster
Accelerating the build-up of growth by providing a better home for colonies to grow
Does not remove the colony's base- meaning that while the symptom of a dirty roof was treated, the cause was not
High-pressure and harsh chemical systems should be avoided- they will drastically reduce the useful life of your tile roof. Not only does the pressure washing method cause irreparable damage to your roof- the untrained employees can cause expensive damage to your roof's structure that could require large repairs. Pressure cleaning companies are not licensed, trained or certified to work on or repair roofs:
Loose or chipped tiles can be knocked loose by foot traffic and pressure cleaning
The load bearing ability of your roof can be compromised
Structural damage can create vulnerabilities in your underlayment.
Avoid having to pay twice for the work; one price to clean, one price to repair the damages it caused!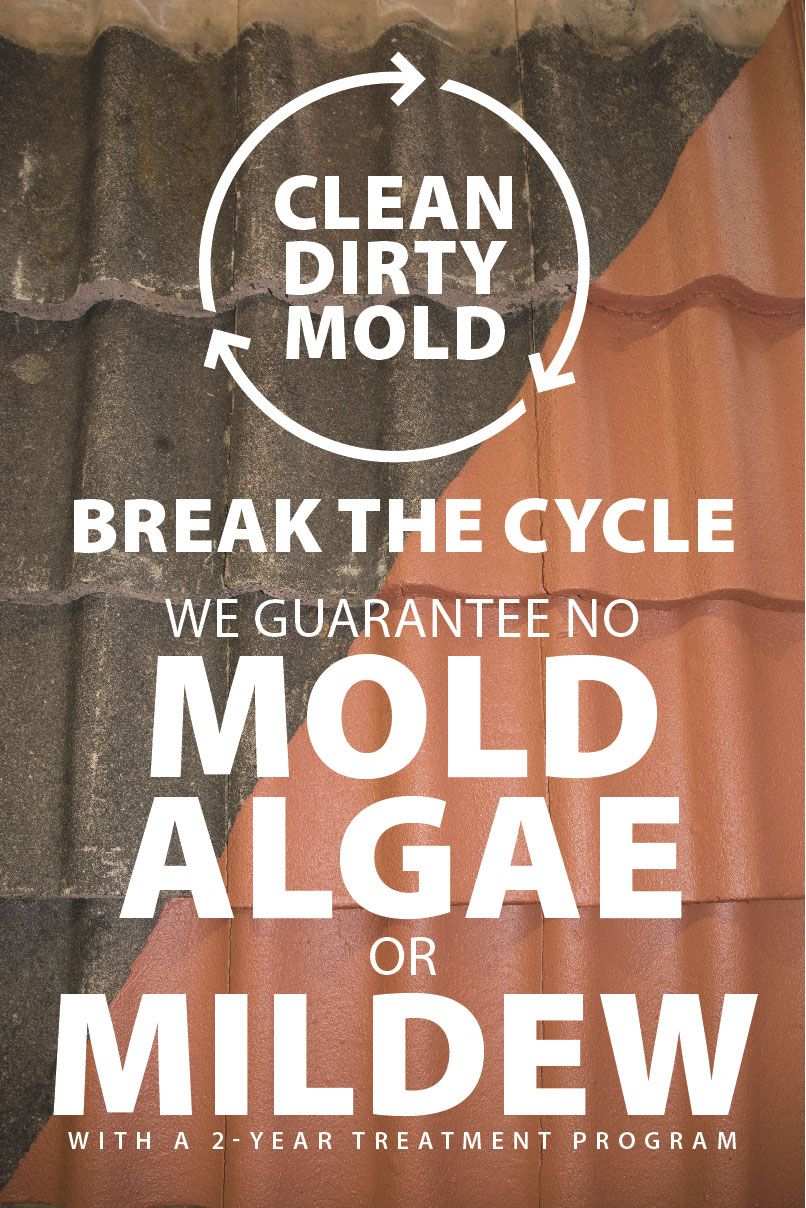 Restore your roof to its like-new condition, without the damaging your roof or your warranty.