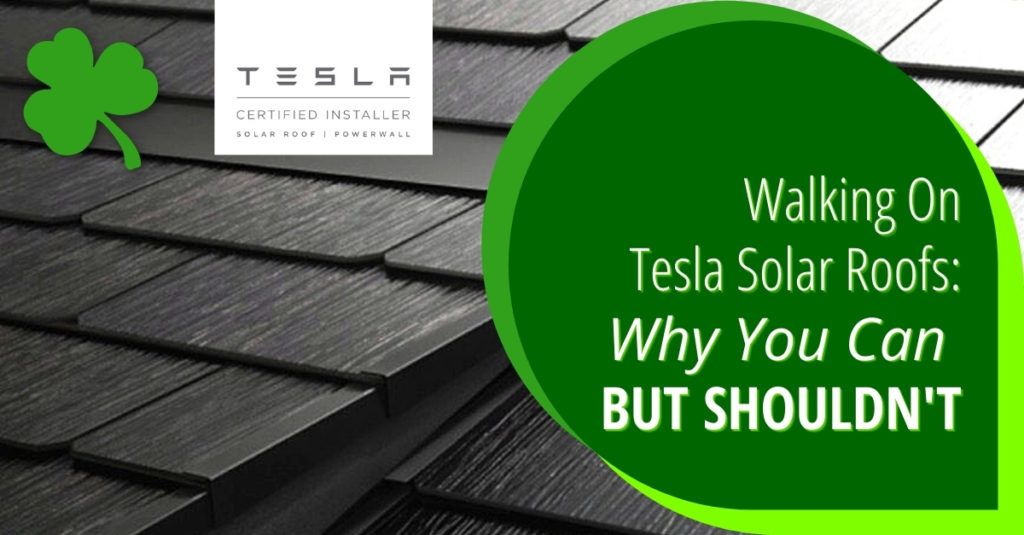 Roofing contractors typically walk on a roof in the course of making repairs or replacing part of the roof. They can walk on tile, shingles, and metal roofs — but can you walk on Tesla Solar Roofs? The short answer is you can…but you shouldn't. Here's a closer look.
Tesla Solar Roofs Are Strong
You might not assume Tesla Solar Roofing is very durable since it is made from glass. You would not walk across a window or step on your wine glass and expect it to survive. However, the glass used to make Tesla Solar Roofing is different. It's much stronger.
Tesla Solar Roofs are made from tempered glass. This glass has been put through a series of chemical treatments in order to make it sturdy and less prone to breakage. Tempered glass won't crack under the weight of a roofer.
In fact, this tempered glass roofing is even stronger than tile roofing. The shingles –solar arrays to collect the sun's energy– hold up to hurricane winds and won't break down and start crumbling like shingles. They're a strong, durable option for anyone who wants an energy-efficient roof. Don't turn them down out of concern for your roofing contractor's ability to make repairs.
Roofing contractors can and do walk on Tesla Solar Roofs – when wearing the appropriate safety harnesses. They won't damage the roof in the process. However, you as a homeowner, should never walk on your roof.
Tesla Solar Roofs Get Slippery
Tesla Solar Roofing is textured, but still becomes slippery when wet. The roof arrays need to have this somewhat slippery texture so dirt, debris, smoke, dust, pollen rinse off the roofing when it rains. This keeps the roof clean, which is really important for the collection of sunlight. Dirty solar arrays do not absorb as much sunlight or generate as much electricity.
The slippery nature of Tesla Solar Roofs is an unavoidable side effect of the way the solar shingles are made. This slipperiness is why you should never walk on a Tesla Solar Roof, even though there's little to no risk of damaging the roof itself. For the same reason, roofing contractors should always wear a harness when working on a Tesla Solar Roof.
Tesla Solar Roofs are strong, durable, and dependable. If you're looking for an authorized installer in South Florida, contact Kelly Roofing.