Giving back to the community comes in many forms. At Kelly Roofing, we are committed to investing in the lives of others throughout Florida. Our passion for generosity extends to our involvement in numerous service opportunities, including The Owens Corning Roof Deployment Project. In this case, a veteran received a new roof recently through the collective efforts of Owens Corning, Rebuilding Together Tampa Bay / Rebuilding Together Central Florida, and Kelly Roofing.
Showing Gratitude For A Local Veteran By Donating A New Roof
On March 17, 2023, Benjamin Hill, a distinguished U.S. Army veteran, currently residing in Fort Myers, Florida, received a new roof free of charge. The Owens Corning Foundation donated the roofing materials. Kelly Roofing provided the labor. Rebuilding Together Tampa Bay / Rebuilding Together Central Florida also helped make this venture possible.
The mission of Rebuilding Together is to repair homes, revitalize communities, and rebuild lives. Throughout the United States, Rebuilding Together consists of a diverse network of local chapters committed to improving neighborhoods by restoring community pride and strengthening the health, safety, well-being, and financial status of the residents served.
Transforming Lives One New Roof At A Time
Generosity is a quality that demonstrates a willingness to share freely and enhance the well-being of others. Philanthropic efforts often take a coordinated approach when they involve providing both a service and a product. To that end, The Owens Corning Foundation collaborates with Platinum Preferred Contractors to identify, honor, and help protect deserving military families by installing new roofs at no expense.
As a Platinum Preferred Contractor, Kelly Roofing meets the strictest standards of roofing excellence. Our dedication to providing outstanding craftsmanship and service for homeowners affords us greater opportunities to reach our community and express meaningful gratitude to military members and their families. Founded in 2016, The Owens Corning Roof Deployment Project has resulted in more than 400 military members receiving a new roof to date. Benjamin Hill of Fort Myers, Florida, is the latest recipient.
Finding Meaningful Ways To Help In The Community
When Benjamin Hill applied for a new roof through The Owens Corning Roof Deployment Project, he expressed a need to replace his roof because it was failing. The Owens Corning Foundation reviewed his application and determined that pursuing this opportunity made sense and was the right thing to do for him and his family.
Owens Corning came to the table with all the materials required for this roof replacement project. Needing to involve a local Platinum Preferred licensed roofing company, Kelly Roofing was contacted to gauge their interest. Upon finding out what would be involved, we were more than willing to donate our time and labor because we knew that this project would benefit a deserving family in our local community.
Serving others remains central to our vision at Kelly Roofing. Partnering with nonprofit organizations like Habitat for Humanity, The Owens Corning Foundation, and Rebuilding Together, provides avenues to give back. Our Free Roofs For Review effort is just one example of how Kelly Roofing transforms the lives of families in need. For every 100 qualified supportive reviews from satisfied customers, we partner with Habitat for Humanity (and other regional organizations) to donate a new roof to a local resident. To learn more about success stories, read here.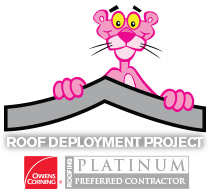 Partnering With Rebuilding Together To Make Homes Safe And Healthy
For Benjamin Hill and his family, replacing their failing roof meant the world to them. For Rebuilding Together Tampa Bay / Rebuilding Together Central Florida, any effort to repair a home represents one step closer to revitalizing the community and rebuilding a family's life.
Often, Rebuilding Together becomes involved when a home has reached a critical stage of needing a new roof, but the homeowners lack the financial resources to replace the roof. In those instances, Rebuilding Together works with other organizations to identify a roofing company willing to generously donate their labor to bring the roof to a safe and healthy state.
At Kelly Roofing, we are now one of the largest roofing companies in Florida. Yet, we maintain a small family atmosphere that preserves our downhome approach to our customers. We want homeowners to think of us as accessible and relatable. We don't compromise quality or the willingness to improve as roofing processes and technology evolve. We take our commitment to the community around us seriously and lead by example. 
Whether you need a roof repair, replacement, inspection, accessories (like gutters, insulation, or skylights), or solar roofing, Kelly Roofing has you covered. Click here for educational and informative articles about roofing products, services, and news. To schedule a free consultation or learn more about how we can help with your roofing needs, contact us today.